A girl can never have enough closet space. Especially if that girl lives in New York City.
Add a roommate/spouse/kid or two, and you're really faced with a closet conundrum.
It's ironic that in the land of chronic shoppers, those same folk have no place to put their samplesalefleamarketboutique finds. Walk-in closets are a luxury for the few and the lucky, and the rest of us are faced with a bi-fold door or two of storage.
This week's (big) small find is something that everyone can use... closet organizers.
There are a gadzillion to choose from, and this post will just cover a few, but whatever kind you choose, you will definitely benefit from this home improvement.
elfa System at The Container Store:
The queen of closet organization, as far as many New Yorkers are concerned, is elfa. The Container Store really knocked it out of the park with the flexibility and allure of this system.
There is an
online tool
that allows you to design a closet customized to your closet dimensions and your storage needs (like if you're a shoe hoarder, or have a lot of dresses, they account for that and will design accordingly). The parts are attractive, practical and available in different finishes and colors.
Down side? Price. Big price. Probably worth it though-- their systems are extremely durable.
elfa system at The Container Store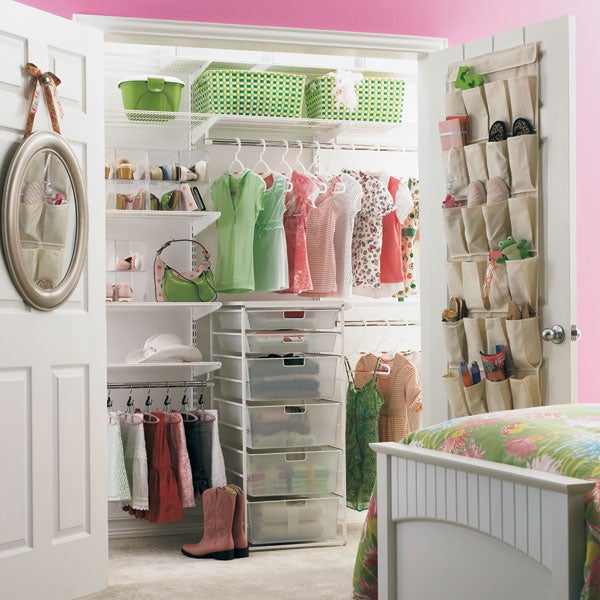 elfa System at The Container Store
Rubbermaid Closet Organizers:
Good for more than just Tupperware, Rubbermaid closet systems, like elfa, have customizable, adjustable organizers and are quite comparable in options and look to elfa.
They also offer
design-your-own closet services
on their website. More affordable then elfa, and with good reviews (at least on their website!) this might be a good option for budget conscious closet overhaulers.

Some Temporary Closet Solutions...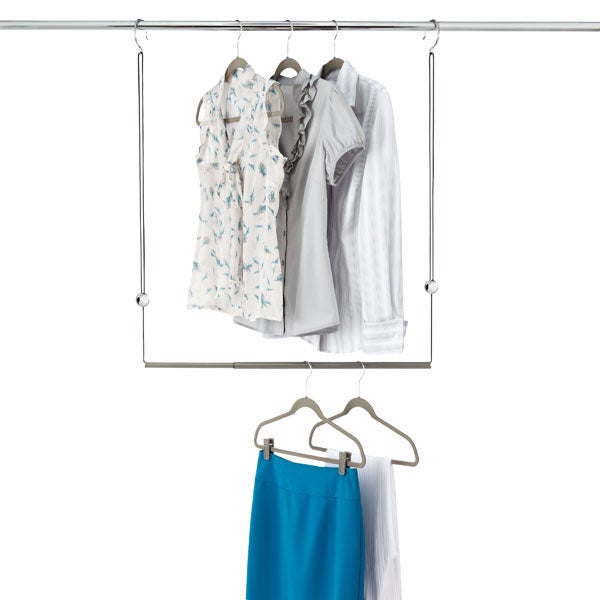 Dublet, by Umbra, adjustable rod-- doubles your hanging space! Available at The Container Store


For those of you who are not ready yet to redesign your closet (or rent and therefore are not allowed to) there are even cheaper and more temporary solutions. First order of business would be to get yourself one of these hanging rods-- you literally can double your closet space with this simple 20 buck purchase. Go for it!
Target hanging closet organizer
In the Little One's room, where we haven't figured things out yet, we also have a hanging closet organizer similar to the one I show you here. You can keep clothes, toys, shoes or accessories in it... we use it for diapers which we buy in bulk and for which we always need space.
There are so many more little fixes that you can find at places like Bed Bath and Beyond, Target, Ikea and The Container Store. If you have a favorite, please let us know below!
Hope these ideas and links get you on your way... happy breathing room everybody!